Download the Pizza Hut job application to fill-in with your personal and past employment details to seek a position at any restaurant location. There is also the availability to apply through the Pizza Hut Website that makes it easy to apply online for a variety of positions all across the United States. It allows you to chose between Restaurant and Corporate jobs and view a list of currently available jobs that you can filter by location or job title. If you don't see the job you want currently available, you can go back to the previous page and sign up on the bottom (with your name, email, location, and position keyword) to receive email notifications when new positions open up. If you prefer to apply in person, print the PDF form, fill it out, and bring into the store location to which you want to apply.
HOW TO APPLY
Step 1 — Go to jobs.pizzahut.com and decide whether you want to apply for a Restaurant or Corporate job. For this example, we'll click "Restaurant."
Step 2 — On the next page you'll see a list of currently available jobs that you can filter by location or job title. Let's say you live in Huntington, WV and want to apply for a Team Member position. Click the title of job opening that reads "Pizza Hut Team Member – Huntington, VW."
Step 3 — Read through the "Job Description" and "What We Are Looking For" sections. Click "Apply Now" to start the online application.
Step 4 — Fill in your personal information, including name, address, phone number, and email address.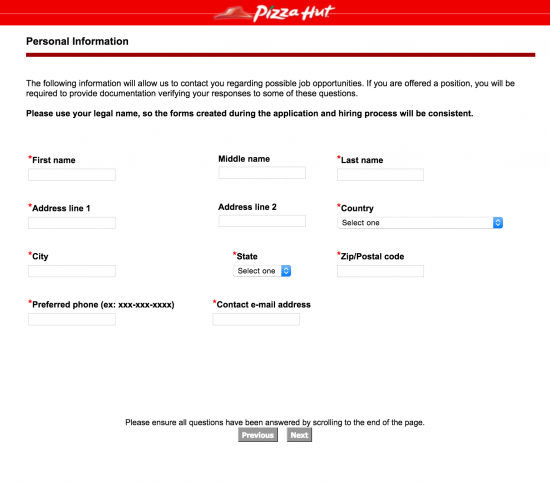 Step 5 — Check the boxes for the time you will be available to work. Indicate whether you prefer full-time or part-time.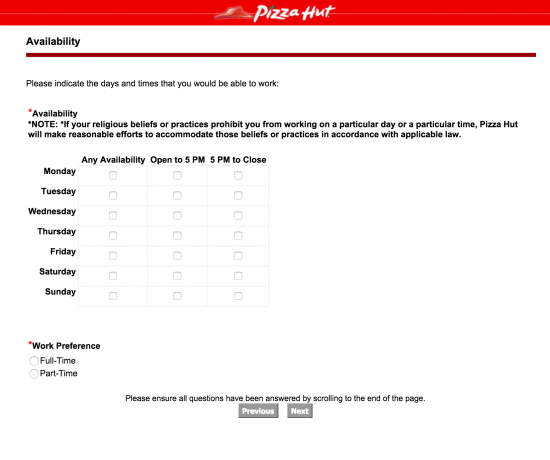 Step 6 — Enter your work and education history.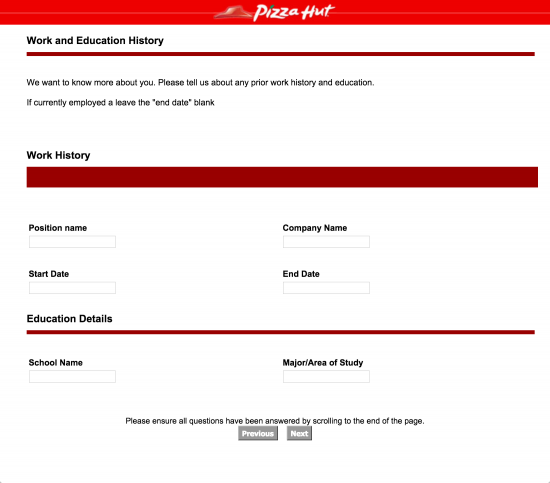 Step 7 — Include information for two references.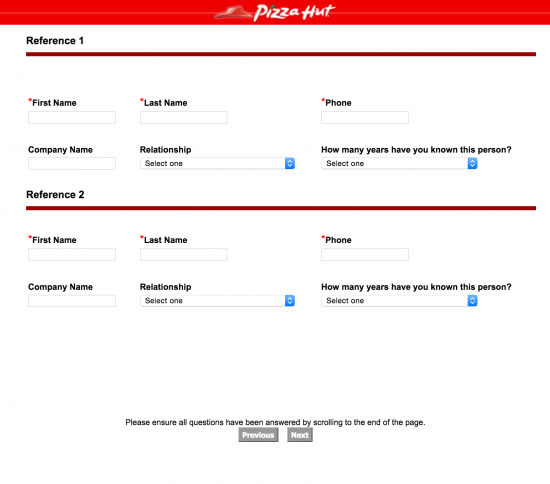 Step 8 — Read the legal disclaimer, sign your name electronically, and submit your application!
It may take Pizza Hut a few weeks to review your application. If they want to interview you, they will call to set up an appointment. Be sure to dress appropriately and come prepared to ask any questions you might have about the position and its responsibilities.
Preview
[fbcomments]