Download the Kohl's job application form to seek employment at any Kohl's department store. Kohl's offers hourly in-store positions as well as a wide variety of salaried career positions at locations throughout the United States. If you prefer to apply from home, simply go to Kohl's website and take advantage of their online application system.
How to Apply
Step 1 — Start at Kohl's career page and decide whether you want to search for jobs by location or position title.
Step 2 — Click the name of the job you are interested in. You will be taken to the "Job Details" page, which explains all the responsibilities of the job and what Kohl's is looking for in its applicants.
Step 3 — If the job sounds like a good fit, click "Apply Now," which will open a new window where you will begin the online job application. To begin, you must create a gateway questionnaire login by entering your email address, creating a password, and by selecting a security question and answer.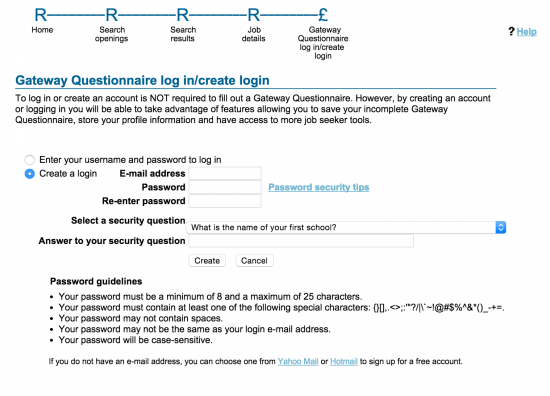 Step 4 — Complete the first section of the application titled "Applicant Information."
Step 4A — First, you can upload a résumé if you have one saved on your computer, or you can copy or type it in manually.

Step 4B — Next, you must add you personal contact information including name, address, and phone number.
Step 4C — Finally, enter your education and work history.


Step 5 — Complete the section titled "Job Application" by answering questions specific to your Kohl's application.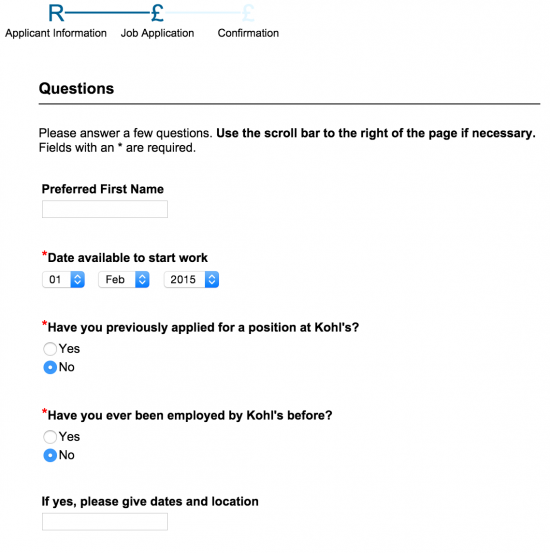 Step 6 — Read the "Applicant's Statement" at the end of the application and enter your online signature at the bottom of the page.
Step 7 — Submit your application! You will be able to view a confirmation page. Kohl's will take time to review your application and if they want to interview you they will contact you by the information you provided.
Preview
[fbcomments]