The 7-eleven job application may be submitted online or at a Store Location that the individual has the desire to work. The most common position with the company is a role being the cashier which may also include the duties of cleaning, inventory, and general customer service. New employees are also given the hours others do not wish to have which may be overnight shifts.
How to Apply
Step 1 – There are two (2) main ways to apply for a job at 7-Eleven:
Online Application
Step 1 – Go to This Website and click on the 'Apply Now' button on the upper-right hand side of the page.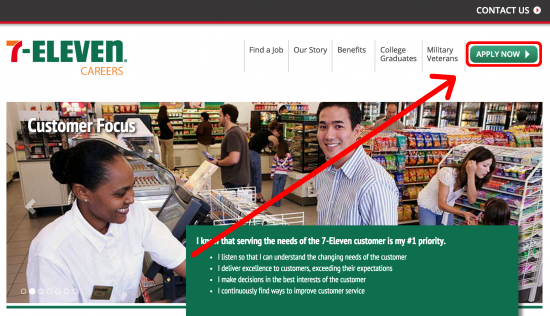 Step 2 – Decide whether you are seeking a corporate job or employment at a retail store. Since most applicants are seeking a job at a retail store we will be clicking on the 'Sales Associate' (right side of the page) for this example.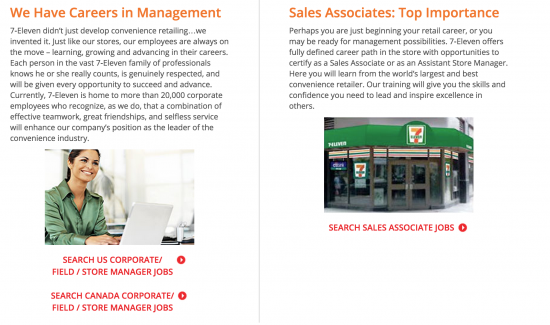 Step 3 – Decide which area you would like to work; Ohio and South Carolina or All Other Areas.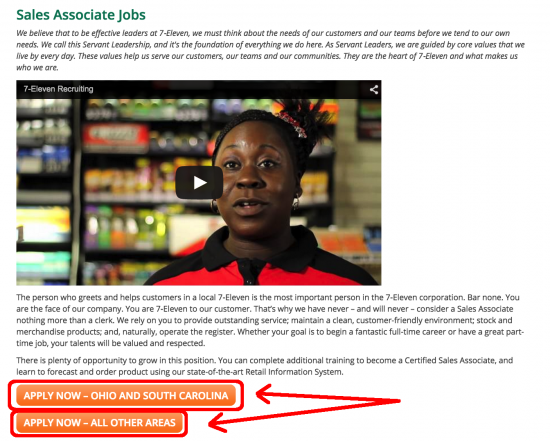 Step 4 – Select the State and City you are searching and automatically the open positions will become available for viewing. Click on the 'Apply Now' button to get started.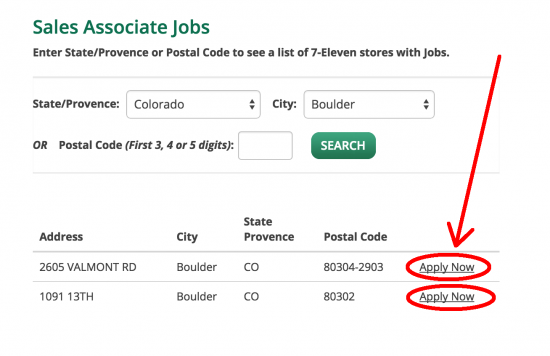 Step 5 – You will have to create an account (or login to existing) to submit your information and apply for the position available. You will be contacted via email or by phone if 7-eleven has interest in your employment.
Paper Application
Step 1 – Download the Application and either open in Adobe PDF or print to begin filling-in the document.
Step 2 – Enter your personal information including your social security number, date of birth, address (including previous), marital status, and your access to transportation.
Step 3 – Enter the position desired, hourly rate (that you are seeking), and the hours you intend on working per week.
Step 4 – Enter your background including your past employers, education, and military service (if any).
Step 5 – Enter your references including any personal individuals and employment supervisors (current and past) that may help in your application.
Step 6 – Enter any additional comments such as a personal message to the employer, in the past 3 years how much time have you missed from work, and if have you ever broken the law (if so, specify).
Step 7 – Sign the application and take the form to the nearest 7-Eleven stores (during normal business hours) and walk-in to ask to speak with the hiring manager. It is advised to dress appropriately and politely when speaking with the manager and try and request a 2nd interview or a follow-up meeting to ask about open positions and when training can begin.
Preview
[fbcomments]